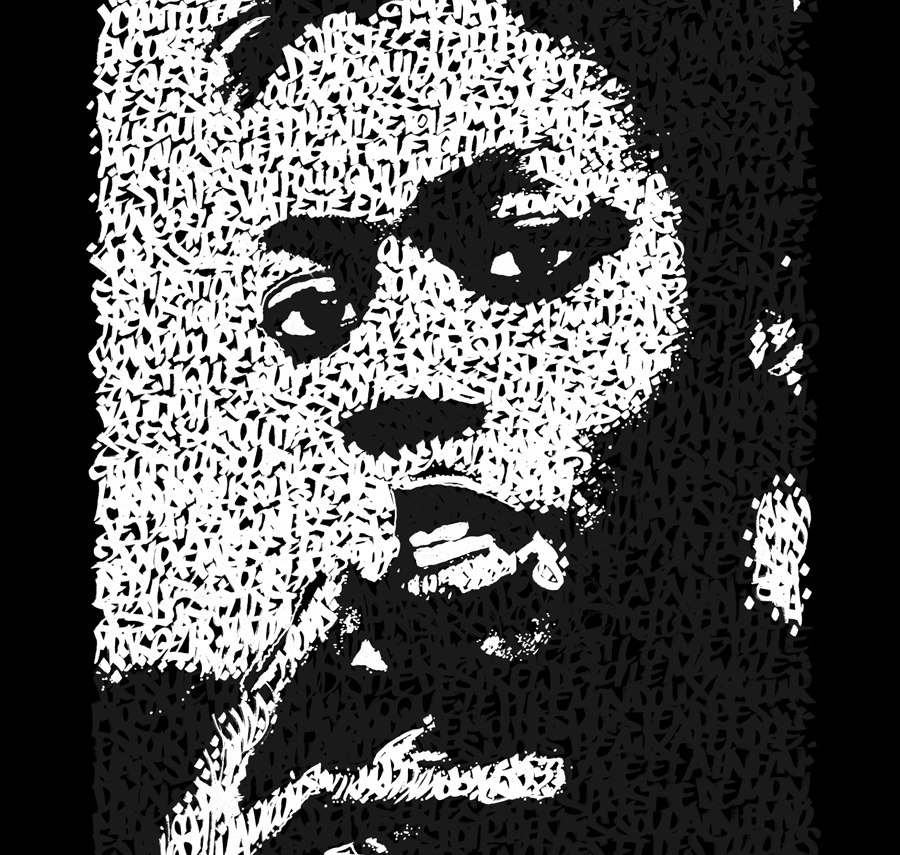 Né en 1977 à Paris, Jonas dit « SUN 7 » vit et travaille à Paris.
SUN 7 est, à l'évidence, enfant de croisements et chevauchements entre le mot et l'image, la poésie et la couleur, l'art et la rue. A l'aube des années 1990, il découvre l'univers des tags new–yorkais. Bombe aérosol en main, il s'attaque à la peau des murs, de Paris à New York.

Il multiplie performances et interventions à Paris, Lyon et Marseille, puis à Shanghai, Hong-Kong et Djakarta.... Il utilise ensuite la toile, le panneau, les plaques de métal... Son registre se métisse sous des influences multiples : l'action painting, l'art nègre, les tatouages maoris. Mais c'est le mot qui domine. Un maillage de mots,le plus souvent indéchiffrables et qui, assemblés, composent des portraits et des autoportraits. Portraits évidents et textes codés, soit un jeu subtil d'apparition/disparition, où ce qui relève de la calligraphie, des glyphes, des idéogrammes, se déréalise, laissant planer le mystère.
Giles de Bure / Espace culturel Louis Vuitton
SÉLECTION D'EXPOSITION ET PERFORMANCES
2016
Résidence au JARDIN ROUGE Marrakech
Exposition NUNC Paris / NUNC Grenoble / SBK Lyon
2015
THE BEACH BENEATH THE STREETS – THE MINE – Dubaï
« ART SHOT»- Courchevel
« LCL en ville » – Tournée d 'expositions solo / performances LCL
2014
« TAKE ONE » Group show- CATHERINE AHNELL Gallery – New-York
« BOOM » Group show – LA LUNE EN PARACHUTE –Epinal
« SEQUENCES VAO » - LA VALLEE – Bruxelles
« SOLIDAYS » - Paris
« ST 'ART » - Strasbourg
« CALLIGRAMMES TO ABSTRACTS » - La Réunion
«In and Out –ShnagART - AD » - Shangaï
2013
« OVER-EXPOSED » - Solo show - CATHERINE AHNELL Gallery – New-York
« SOLAR LOOPS » - Solo show - PERCEPT Gallery – Lyon
2012
« MARRAKECH BIENNALE » , Maroc
« BYRDS », Joseph Gallery , Paris
« COMEBACK » , Onega, Paris
« URBAN ART », Stade de France, Paris
« GO SLOW » , Bamako, Marrakech, Ibiza
2011
« LONDON ART FAIR » , Londres
« SUNBURST ( Tales from the Lightside ) » , Lorenzetti Gallery, Lyon
« ANIMAL DREAM » Pacha Marrakech
« LES LABYRINTHES DE LA CALLIGRAPHIE » AvantGarden Art Gallery- Milano
« EFFACER LES TRACES » Musée des Invalides , Paris
« KISS THE CITY » Skalitzers, Berlin
2010
« C1TY » World Fair Gallery 18 Magda Gallery, Shangaï
« CHROME DIARIES » L ' Agence, Paris
2009
FACE CACHEE/FACE VOILEE, exposition personnelle, Espace Beaurepaire, Paris
SCRITTURE SILENZIOSE, Palazzo Dugnani, Milan
NE DANS LA RUE, Création d'une œuvre originale de 8mx3m, Fondation Cartier, Paris
ECRITURES SILENCIEUSES, Exposition collective, Espace Louis Vuitton, Paris
HOUR LOVE, Exposition collective avec Tanc et Babou, Studio 55, Paris
TAG AU GRAND PALAIS, Exposition collective, Grand palais, Paris
2008
LAY DOWN THE REALITY, Exposition collective, Galerie Moretti et Moretti, Paris
BCUBE, Exposition collective, Door studio, Paris
2007
MEMOIRE, Exposition personnelle, Studio 55, Paris
CUBE, Performance pour Adidas avec L'Atlas, Tanc et Clyde Knowland. Shangaï, Chine
GRAFOLOGY , Réalisation d'une fresque avec Duster132, Palais de Tokyo, Paris
Performance pour MANGO avec Jean Faucheur et L'Atlas, Palais de Tokyo, Paris
LES ARTISTES CASSENT LA BARAQUE, Place St Sulpice, Paris
MY STREETS, MY CITY, Chiellerie gallery, Amsterdam
2006
RUE AU GRAND PALAIS, Grand palais, Paris
2 JOURS DE NUIT, Exposition collective, Place St Sulpice, Paris
CITY HEART, Exposition en duo avec Babou Galerie Chappe, Paris
THE CONTENT OF MY HEAD IS VISIBLE , Exposition collective avec L'Atllas, Babou, Tanc et Yaze à l'Espace Beaurepaire, Paris
AUX ARTS CITOYENS, Exposition collective d'art urbain, Espace des Blancs-Manteaux, Paris
2005
PROCRE8, Galerie W, Orléans
VERSUS COLOR, Exposition internationale d'art urbain La Kabak, Lausanne, Suisse
REPUBLIK'ART, Exposition collective. Intervention en milieu urbain. Jogjakarta, Jakarta, Indonesie.
2004
YAZE vs. SUN 7, Exposition et battle performance, Toast Gallery, Paris.
FESTIVAL ARBORESCENCE, Performance collective d'Akrylonumérik. Marseille
CITADINS EN MILIEU ARTISTIQUE, Exposition collective en milieu urbain « La Lune en Parachute », Epinal
2003
NICE LOOKING, Conception et réalisation d'une fresque de 700m Raffinerie Total, Feyzin
2002
ECRAN TOTAL, Performance multimédia en plein-air
NUIT BLANCHE, Paris
1999
SUN 7, Exposition personnelle Boutique Paul Smith, Lyon
1998
LES FRESQUES DU MONDIAL, Réalisation d'une toile aux dimensions d'une cage de football Galerie des Terreaux, Lyon
1997
L'ART SUR LA PLACE, Réalisation-performance d'une fresque Biennale d'art contemporain, Lyon