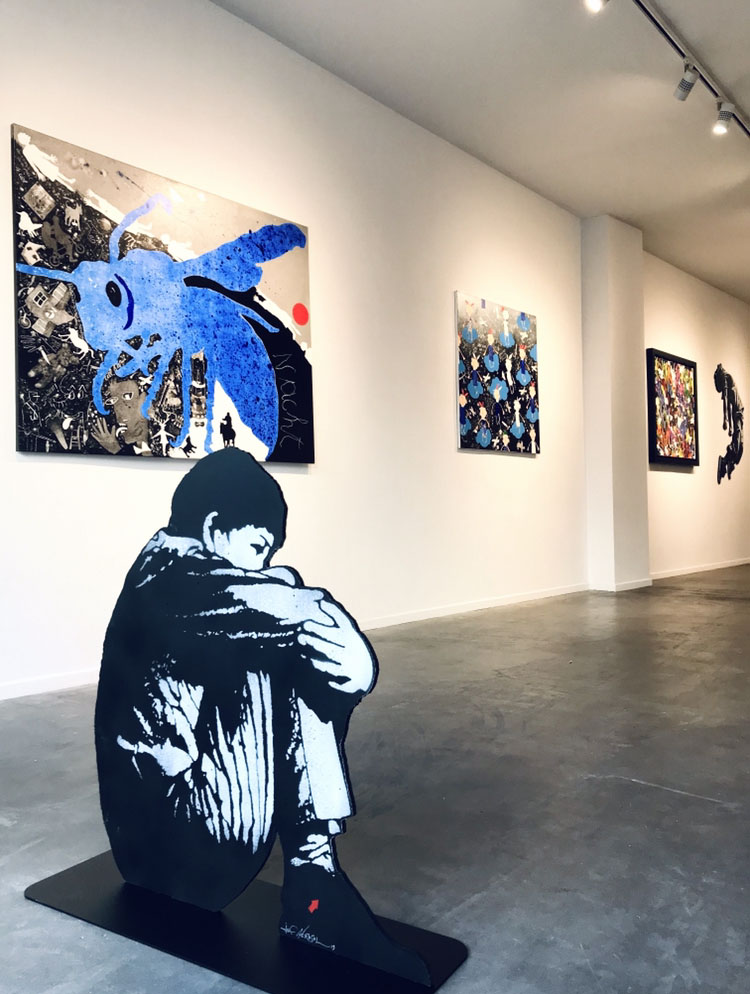 Fondée en 2004, la galerie Martine Ehmer est spécialisée en Art Contemporain et Urbain. Si la galerie suit une ligne cohérente dès ses débuts, Martine Ehmer choisit de ne pas limiter sa sélection à un medium ou un courant. La galerie représente des artistes de divers horizons, émergents ou déjà établis et travaillant différents médias, peintures, photographies, sculptures et vidéos sont exposés.
Jonglant entre abstraction et figuration, tous les mois l'agenda de la galerie est rythmé par des expositions collectives ou des solo shows. Dans la perspective de représenter ses artistes à un niveau international, la galerie participe également à des foires en Belgique et à l'étranger.
A l'occasion de ses 10 ans d'existence, en 2014, la galerie s'installe dans un nouveau lieu au cœur des Marolles, un quartier historique en pleine effervescence, lui offrant plus d'espace et de visibilité.
Début 2020, afin d'accroitre sa visiblité, la galerie ouvre en deuxième espace situé en face du premier au 183 rue haute.
---

Founded in 2004, and specialized in contemporary and urban art, if the gallery has always followed a coherent line, Martine Ehmer does not limit her selection to one medium or trend. Juggling between abstraction and figuration, the gallery represents artists from various horizons, emerging or already established, and working different media: paintings, photographs, sculptures and videos. In 2010, Martine Ehmer chose to specialize in urban art and has presented ground-breaking artists: JonOne, Cope2, Jef Aérosol, Speedy Graphito, as well as younger talents, such as L'Atlas, Pro176, Tanc, Zenoy. If this dive into street art gives the gallery a new impetus and identity, it remains deeply rooted in contemporary art, and continues to promote artists from varying currents, including Cedrix Crespel, Mireille Lienard, and Sonia Aniceto. Located in the lively and historic district of Marolles, at the beginning of 2020, the gallery opened a second exhibition space of over 300m2, across the road at 183 Rue Haute..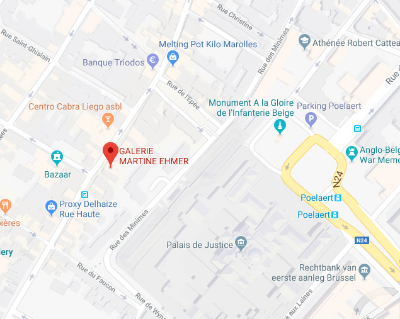 LOCATION

Un cadre unique pour vos évènements !
Créez votre événement dans un cadre unique au cœur de Bruxelles. Idéalement située dans le quartier emblématique des Marolles, entre le Sablon et la Place du Jeu de Balle, la Galerie Martine Ehmer met à disposition son espace pour accueillir différentes manifestations professionnelles ou privées (repas, réunions, conférences, défilés …) Un lieu insolite et chaleureux récemment rénové, équipé de toutes les commodités, d'une cuisine et des nouvelles technologies. Différentes formules possibles pour répondre au mieux à vos besoins. 120 m2 pouvant contenir 80 personnes debouts ou 35 personnes assises. Toutes les dispositions de tables et de chaises sont envisageables et un service traiteur peut également être proposé. Nous sommes à votre disposition pour un devis personnalisé.
183 et 200 rue Haute - 1000 Bruxelles

Heures d'ouverture : du jeudi au dimanche, 11 à 18 h
00 32 473 590 285
martine.ehmer@gmail.com